The ruins of the Kozí Hrádek ("Goat's Small Castle") lie about 5 km south-east of the town Tábor on the small crag above the Kozský Potok stream, about 400 m a.s.l.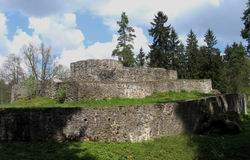 The castle was first mentioned in the 14th century. Between 1412 - 1414 the Master John Huss preached here. The castle was abandoned in the middle of the 15th century, probably in 1438 when it burnt down or it was destroyed. From the 17th to the 19th centuries the ruins were the property of the town Tábor and they were used as a source of the material for building. In the second half of the 20th century the ruins were reconstructed and conserved. They are in good condition nowadays. The walls and the remains of the palace have been preserved from the original structure.
The ruins can be found on the red marked path leading from the town Sezimovo Ústí or on the green sign leading from the parking-lot near Knížecí Rybník pond (on the road Tábor - Chýnov about 4 km) or from the small town Planá nad Lužnicí. Access by car is possible on the road from the town Tábor in the direction of the small town Chýnov, turning-off to the right in the direction of the village Turovec.