The small town Planá nad Lužnicí is a part of the industrial agglomeration of the town Tábor. It lies 7 km south of Tábor on the Lužnice river, 395 m a.s.l.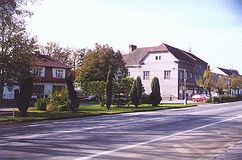 The first mention originates from the middle of the 14th century, when the town was property of the Vítkovec family.
Originally the Gothic St. Wenceslas' Church stands near the thoroughfare. It was built in 1357 and later it was reconstructed several times.
On the south-eastern outskirts there is a small mansion Strkov, which is surrounded with the English park. It was founded in 1903 as a summer seat of the Harrach family.