The town Sezimovo Ústí is a part of the industrial agglomeration of the town Tábor. It lies about 3 km south of Tábor on the right bank of the Lužnice river, near the road and railroad from Tábor (or Prague) to the town České Budějovice, 400 m a.s.l.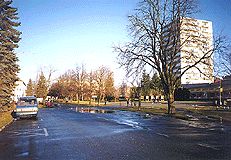 The town is divided into two parts. Sezimovo Ústí I is the older part and it is situated on the bank of the Lužnice river.
Sezimovo Ústí I is first mentioned in 1262. In 1420 the Hussite citizens destroyed the village and they moved to the newly founded Hussite town Tábor. The original village was renewed as late as 1827.
Sezimovo Ústí II was founded as late as 1939 in the place of the former courtyard, when the construction of the new industrial enterprise started here. The small town arose around and it was connected to the older one. After the Second World War the town developed quickly due to the construction of many new factories.
The memorial hall to the archaeologist Josef Švehla, who explored the remains of the original village at the end of the 19th century, can be visited in Sezimovo Ústí I.
The villa of Edvard Beneš, the second president of the Czechoslovak Republic, who often visited this place and died here too, stands in the large nature park on the outskirts of the town. The president's grave, which is located in the lower part of the park, is open to the public.