The Malše river is the right tributary of the Vltava river. They join in the town České Budějovice.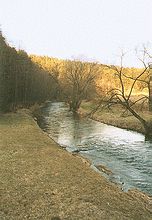 The Malše river springs in the Austrian part of the Novohradské Hory (Nové Hrady Mountains) on the slopes of Virehberg mountain (1,114 m) in 900 m a.s.l. First it runs through the wooded valley to the north and then it enters Bohemia. After crossing the border it flows in the north-western direction to the small town Dolní Dvořiště and it forms the state boundary. Then the Malše river continues to the north all the way. It takes water of the Tichá stream (Quiet), the Kamenice river (south of the town Kaplice) and the Černá river (Black) behind Kaplice (each of them from the right side) and it runs through the narrow valley to the Římov Dam, which dammed the flow near the village Římov. Behind Římov it joins the Stropnice river (right branch) and then it flows into the Vltava river in České Budějovice.
The Malše is an important South Bohemian river and its banks represent favourite recreational area. It is navigable for small boats in most of its length (from Dolní Dvořiště to České Budějovice). It drains the area 979 square km, it is 92 km long and its drop between spring and mouth is 519 m.
The blue marked trail leads along the watercourse from from village Rychnov nad Malší (2 km north of Dolní Dvořiště) to České Budějovice.