The small town Velešín is situated about 18 km south of the town České Budějovice above the Malše river, 548 m a.s.l.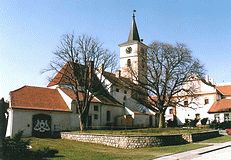 The Romanesque castle, one of the oldest castles in Bohemia, originally stood here. The settlement around the castle became a small town in 1391. The first owner of Velešín was Čéč of Budějovice. From the 14th century it became property of the Rožmberk family.
The oldest sight in the town is the originally Early-Gothic St. Wenceslas' Church in the cemetery. It was founded in the second half of the 13th century and later it was rebuilt several times. The most important reconstructions were between 1751 - 1754 (in the Baroque style) and then in 1887. The furnishings originate from the Baroque period.
In the small square there we can see the Renaissance town hall from 1611 (with two Baroque gables, which were added in the second half of the 18th century) and the former Church of Sts. Philip and James (originally Gothic).
The remains of a round tower and walls of the former castle can be found on the rock spit above the Malše river.
Parts of the horse-drawn railway, which led from České Budějovice to the town Linz (Austria), are preserved near Velešín.
Kohout hill
ruins of the Pořešín castle
monatery Zlatá Koruna
small village Svatý Jan nad Malší
small village Doudleby
Římov Dam