The small village lies about 10 km south of the town České Budějovice above the Malše river, 425 m a.s.l.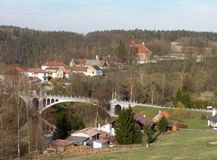 The Slavonic settlement, the centre of the Slavonic tribe Doudlebs, and then the fortress of the Slavníkovec family were here before 1000. Only remains of ramparts have been preserved. The first mention of the village comes from the 14th century and it reports on the Church of St. Vincent de Paul.
The Early-Gothic Church of St. Vincent de Paul was founded in the place of the original settlement in the first half of the 13th century. It was extended later and at the beginning of the 18th century it was rebuilt into the Baroque style. A lot of valuable Gothic tabular paintings originated in this church are deposited in the Czech National Gallery in present.
Doudleby is not only the village, it is also the whole region around the village. The people living here have peculiar habits and their own folk culture.