The small town Suchdol nad Lužnicí is a very well-known starting point for canoeist when they want to go down the Lužnice river. It lies on the upper reaches of the river about 14 km south-east of the town Třeboň, 454 m a.s.l.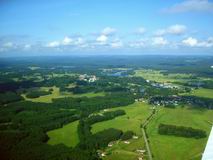 In the 17th and 18th centuries a silver smelter was in Suchdol. At the end on the 18th century it was rebuilt into the glassworks, which were closed at the beginning of the 20th century.
The only sight in the village is the parochial Gothic St. Nicholas' Church, which was founded in the 14th century.
Peat was mined in the surroundings of Suchdol. Peat from bottom of flat ponds was used for heating till the middle of the 20th century.
The instructional cyclotrail Paměti Vitorazska ("Memory of the Vitoraz region") passes through the town.
small river Dračice
Červené Blato peat-bog
reserve Meandry Lužnice
small town Chlum u Třeboně
town Nové Hrady
Staňkovský Rybník pond