The small town Chlum is an important resort in the Protected Landscape Area Třeboňsko on the bank of Hejtman pond (Hetman). It is situated about 12 km south-east of the town Třeboň near the Czech-Austrian border, 492 m a.s.l.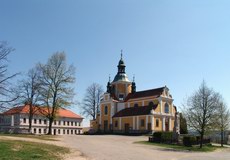 The first mention of the village, as a property of the Rožmberks, is from 1399, but the village probably originates from the 13th century. The iron mines were founded in the surroundings and one of the biggest ironworks in South Bohemia was built in the town. The rails for the horse-drawn railway between the towns České Budějovice and Linz (Austria) were made there too. Chlum is one of several South Bohemian towns with developed glass-blowing - this tradition began in the 20th century.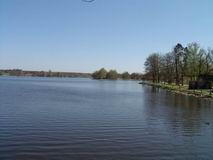 The Baroque chateau stands on the bank of Hejtman pond. It was built in the place of the original Gothic fortress in 1710. The present Pseudo-Baroque appearance comes from the reconstruction from the turn of the 20th century. The large park with a lot of exotic trees and shrubs and with statues from the 18th and 19th centuries can be seen around the chateau.
The dominant feature of the town is the Baroque Church of the Assumption of Virgin Mary, which towers on the hill above the pond. The church was built on the layout of the Greek cross in 1745 and it is a copy of the pilgrimage church in Mariazell (Austria). Three aisles and the sacristy were added in 1805. The furnishings are in the Baroque style. The Stations of the Cross lead from the chateau to the church.
Hejtman pond was founded in the middle of the 16th century and its area is about 82 ha.
Chlum u Třeboně was a favourite place of the Czech poet František Hrubín.