The small town Kamenice nad Lipou lies on the north-western outskirts of the Českomoravská Vrchovina (Czech-Moravian Uplands) on the flow of the small river Kamenička, 563 m a.s.l. It is situated about 20 km north of Jindřichův Hradec near the narrow-gauge railway, which leads between the village Obrataň and the town Jindřichův Hradec.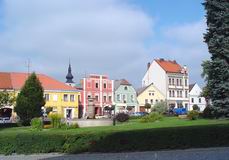 Originally there was a Gothic castle built in the middle of the 13th century here. Not far from the castle there was a small town. It enlarged through time. The Renaissance chateau with arcade courtyard and with the garden was built by Jan Malovec of Pacov in the place of the castle between 1580 - 1583. The chateau was reconstructed in the Classicism style at the beginning of the 19th century. The entrance tower was built in the Baroque style and it comes from 1744. The All Saint's Church dates from the 13th century, but it was many times reconstructed. Tombstones with reliefs from the 16th and 17th centuries can be found in its walls. The church tower is from the 17th century.
In the Middle Ages the ironstone and the silver were mined around the town. The ore was processed into tools in the local iron-mills. In the 19th century there was a factory for the production of stockings in Kamenice, and in the 20th century there were a textile factory (produced mostly curtain materials and laces) and glassworks.
| | |
| --- | --- |
| | |
The very old and preserved lime tree grows in the park around the chateau. Its age is conjectured between 600 and 800 years.
The natural cemetery called Bradlo, which is known as one of the most beautiful in Europe, can be found on the knoll above the town.
In the town museum there is an exhibition dedicated to the Czech composer Vítězslav Novák. The instructional trail named after him leads through the town and its surroundings.
The 46 km long narrow-gauge railway (founded in 1906) leads through Kamenice nad Lipou. Nowadays it is used for daily transport and during the summer for tourist trips with special old trains and wagons.
village Mnich
small town Počátky
small town Černovice
town and chateau Žirovnice