The town Žirovnice lies on the small river of the same name about 18 km north-east of the town Jindřichův Hradec, 587 m a.s.l.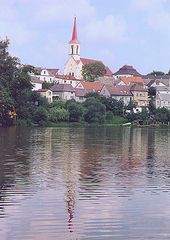 It is first mentioned in 1345. In the second half of the 14th century the Gothic castle was founded on the rock spit above the village. The Swedish soldiery seized it during the Thirty Years' War.
The shoemaking and drapery developed here very well in the 17th century. In the 19th century the town was well-known due to the processing of nacre and the production of nacreous buttons.
The most important sight in Žirovnice is the Gothic-Renaissance chateau, which arose from the original castle. The town museum is located there in present.
The Neo-Gothic Church of Sts. Philip and James stands on the upper side of the square. It was built between 1868 - 1872 in the place of the older sacral Gothic building, which was destroyed during the Thirty Years' War.
The valuable Marian column originates from 1777.