The town Pacov is situated about 25 km north-east of the town Tábor, 615 m a.s.l.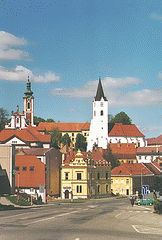 It is first mentioned as the castle with the small settlement, which was promoted to the town in the second half of the 16th century. In 1727 big fire completely destroyed the town and nearly the whole town was built again in the Baroque style. Pacov was a poor town and its citizens mostly worked in a drapery and in crafts. Industry has developed here since the 20th century.
The Baroque chateau, which stands near the square, was rebuilt from the original castle after 1584. In the 1660's it was rebuilt into the Baroque monastery of the order of White Friars, who enlarged it in 1719. In 1787 the monastery was closed and it was used as chateau again.
The St. Wenceslas' Church was added to the monastery between 1727 - 1732. The Baroque church has an oval layout and its frontage leads to the square. The oval chapels, rectangular presbytery and the thin tower with the dome adjoin the nave.
The neighbouring parochial Church of St. Michael the Archangel is situated in the upper part of the square. It was founded between the 1350's - 1380's in the Gothic style.
Pacov is a hometown of the poet Antonín Sova.
The FIM association was founded in Pacov in 1904 and the first circuit for motorbikes in Bohemia was built in the near village Kámen in 1905.
Strážiště hill
Kámen castle
Želiv monastery
memorial in Leskovice
village Obrataň
small town Červená Řečice