The small town Červená Řečice is situated about 12 km north of the town Pelhřimov, 455 m a.s.l.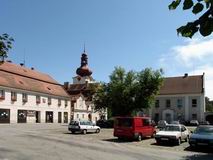 The community was established at the end of the 13th century by Praque's bishop - that is why it was called Bishop's Řečice. In 1378 better part of the town was destroyed by fire. Modifier "Červená" (Red) acquired in the 16th century after the new bright red roofs of the local Renaissance chateau. In the 17th century it was plundered by Swedish army. Another big fire damaged the city in 1669.
The chateau arose in 1560 by the reconstruction of the original Gothic castle from the second half of the 12th century. The vast areal was protected by walls with polygonal bastions in corners and by a ditch. The round tower from the 13th century and facades of palaces from the end of the 16th century have been preserved to the present. The chateau itself is formed by body of six buildings, which encompass two courtyards with graphite ornamentation.
At the southeast edge of the square there is the parish Church of St. Mary Magdalen, surrounded by the cemetery. It was established in the second half of the 13th century, during the 18th sentury it was modified in the Baroque style.
The late Gothic Church of Corpus Christi stands at the northwest edge of the town.