The small town Želiv lies about 10 km west of the town Humpolec, 495 m a.s.l. The local monastery is one of the oldest monasteries in Bohemia and it belongs to the best preserved medieval precincts in the Czech Republic.
The monastery was founded together with the monastic Church of the Nativity of Virgin Mary on the high spit between the Želivka and Trnava rivers in the first half of the 12th century. Originally it was a residence of the Benedictine Order, but they were expelled early and replaced with Premonstratensians. One of them was later the very well-known Hussite preacher Jan Želivský too.
At the end of the 12th century the monastery in today's town Milevsko was staffed from this one. In 1420 and 1424 the monastery was captured and destroyed by the Hussites. It was partially reconstructed after this, in the middle of the century. The owners of the domain, the family of Trčka, built a new residence called Trčka's Castle in the precinct. The control of Premonstratensians was reinstated at the end of the 16th century. In the 17th century the monastery was rebuilt into the Baroque style (finished in 1688) by G. A. Maggi. After the fire in 1712 the buildings were reconstructed under the design of G. Santini and he rebuilt the church into the Baroque Gothic style. At the beginning of the 20th century the last modification of the monastery was in the Neo-Renaissance style.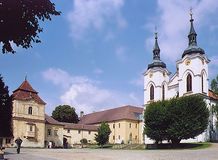 The central building of the precinct is the Church of the Nativity of Virgin Mary. It adjoins with the originally Early-Baroque convent built between 1652 - 1688. The courtyard is enclosed between the former prelature (southern part) and the Trčka's Castle with a tower (northern part).
During the communist era, till 1989, the monastery was used as a sanatorium. In 1990's it was given back to Premonstratensians and reconstructed. Both churches and the Trčka's Castle are open to the public.
Not far from the monastery the single-aisled Church of Sts. Peter and Paul can be found. It dates from the first half of the 12th century, between 1712 - 1719 it was renewed and it was restored in 1930.