The town Humpolec lies on the north-western foot of the Českomoravská Vrchovina (Czech-Moravian Uplands), 527 m a.s.l., about 17 km north-east of the town Pelhřimov.
The Teutonic Knights founded the town at the beginning of the 13th century. The first mention is from 1233. One hundred years later it was already mentioned as a town. At the turn of the 15th century Humpolec became a centre of the large domain around the Orlík castle. During the 13th - 15th centuries gold and silver were mined here and the drapery developed from the 15th century. In 1807 Humpolec was promoted to the free town.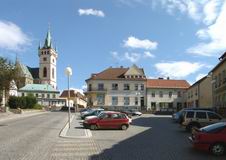 The steep square of the town is divided into two parts with the block of houses and with the St. Nicholas' Church. Both of the parts were reconstructed under the design of Josef Gočár between 1939 - 1941.
The town hall from 1912, which is in the Art Nouveau style, and the museum of Aleš Hrdlička can be seen in the upper square. The former town hall from 1873 and the gallery of Gustav Mahler are situated in the lower part.
The Baroque building of the deanery from 1732 stands beside the church.
The "tolerance chapel" can be found south of the square. The Late-Baroque building originates from the 1780's and it was one of the first in Bohemia.
Humpolec is the birthplace of the Hussite preacher Jan Želivský and of the important anthropologist Aleš Hrdlička. The composer Gustav Mahler was born in the neighbouring small village Kaliště.
The old Jewish cemetery from 1716, reconstructed in the 1990's, can be found on the north-eastern outskirts of Humpolec.
About 10 km long instructional trail Březina leads through the surroundings of the town.
Křemešník hill
Sedlice Dam
ruins of the Orlík castle
Želiv monastery
small town Červená Řečice