The small town Počátky lies about 20 km south of the town Pelhřimov and about 23 km north-west of the town Jindřichův Hradec on the border of the Českomoravská Vrchovina (Czech-Moravian Uplands), 620 m a.s.l.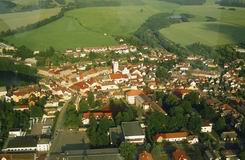 It used to be an enclosure settlement. It is first mentioned in 1258 and since the 14th century it has been a town. Mostly the drapery developed in this town and it has been traditionally here up till the present day.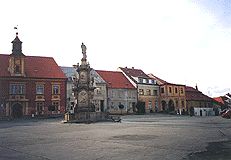 The interesting parochial Church of St. John the Baptist stands near the square. It was founded in 1273 and its present Baroque appearance is from the reconstruction between 1688 - 1702. The Baroque fountain with the statue of St. John Nepomucene, which is situated in the middle of the square, was built between 1717 - 1720.
The poet Otokar Březina was born in Počátky. The memorial can be visited in his house of birth.
The well-known pilgrimage St. Catherine's Church is located not far from Počátky (about 4 km east). The valuable Baroque church was built between 1730 - 1770 probably under the design of the architect K. I. Dienzenhofer.
The instructional trail Cestou Starých Soukenických Mistrů Počáteckých ("En Route of Old Drapery Masters of Počátky") leads in the town and its surroundings and the Otokar Březina's Instructional Trail starts in Počátky.
The ruins of the Janštejn castle can be found about 8 km north-east of Počátky.