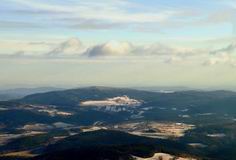 Libín mountain (1,096 m) towers above the town Prachatice and is the dominant feature of the whole region. It lies 4 km south of Prachatice near the road in the direction of the town Volary.
The 27 m high round observation tower on the peak offers nice views of the surroundings and the Šumava mountains (Bohemian Forest) including Prachatice, Boubín mountain, Bobík mountain, Kleť mountain etc.
A ski-slope with a lift was built on the north-eastern slope near the small village Rohanov.
The peak with the observation tower and the tourist chalet can be found on the red marked path, which leads from Prachatice (about 6 km) and partially runs along the Stations of the Cross, ending on the top. The blue marked one goes from the village Libínské Sedlo, which lies on the road from Prachatice to Volary, and leads to the peak as well (about 3 km).