The village Sudoměř is a well-known place of the first important victory of the Hussites on 25th March 1420. It is situated 10 km east of the town Strakonice, 383 m a.s.l.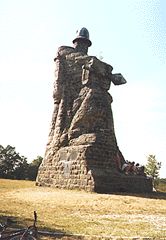 There is a famous archaeological site from the Middle Stone Age (10,000 - 4,000 B.C.) near the village. The placers, remains of the Celtic and Slovanic gold-washing, can be found in the surroundings as well. The fortress, which stood here in the early Middle Ages, was seat of the Czech lower nobility - the Řepický family of Sudoměř.
Near the village there are three ponds (with revetments) and a small hill covered with trees - this was the place of the famous battle between the Hussites and patrician soldiers. In 1420 a group of the Hussites (about 400 people, mostly women and children) with the leader Jan Žižka went this way to the newly founded town Tábor. On 25th March they fought here with the fivefold predominance of the enemy soldiers. The armoured soldiers ended in morass in the bed of the empty Škaredý pond and the Hussites won their glorious victory.
The 16 m high monument to Jan Žižka commemorates this event. It was created by sculptor J. E. Kodet in 1925.
The memorial can be found on the blue marked path leading from the village Kestřany (5 km) around the parking-lot, which lies on turning-off left from the road from the small village Ražice - Sudoměř a few meters ahead of the railway-crossing not far from the railway station, about 1 km far from the monument. The green marked path from the small village Putim (7 km) runs there as well.
Plan of the battle near Sudoměř
The nature reserve Řežabinec can be visited on the pond with the same name near Sudoměř.