The small village Putim is one of the most well-known South Bohemian villages. It is due to the famous Czech novel about the good soldier Švejk by Jaroslav Hašek or due to the novel "Jan Cimbura" by J. Š. Baar.
The village lies on the right bank of the Blanice river ahead of the confluence with the Otava river, 6 km south-west of the town Písek, 386 m a.s.l.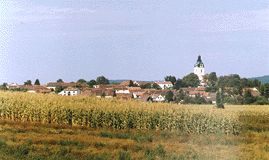 Putim was probably founded in the 11th century. There is the Late-Gothic rectory, which perhaps used to be a fortress. The Early-Gothic St. Lawrence's Church was founded in the second half of the 13th century. After the Hussite Wars it served for Protestants and Catholics together - the Protestants used the northern aisle and the Catholics used the southern one. The Baroque furnishings are from about 1700.
Some farmhouses in the village have the ornate gables in the style of the so-called rural South Bohemian Baroque from the 19th century.
The nature reserve Stará Blanice (Old Blanice) was declared for the protection of water and riparian flora on the billabong of the Blanice river. Not far from the village there is a nature reserve Řežabinec on the pond of the same name.