The forester instructional trail Terčino Údolí (Theresa's Valley) leads in the souhtern part of the nature park Terčino Údolí in the neighbourhood of the town Nové Hrady.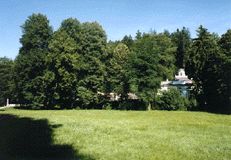 The path is dedicated to acquaint visitors with forest, its functions, and with its importance for the country and environment.
The circular trail is about 3 km long and it browses the southern part of the park. The point of departure is near the central gate of the park in the settlement Údolí near Nové Hrady.
Along the route there are 6 informative boards. The first one (with a map with marked path) is situated at the beginning of the trail.
This trail is for pedestrians only and it is marked by the green sign.
Interesting places on the trail:
Memorable trees - interesting trees in the park and their inhabitants
The height ratio of Terčino Údolí and generic species composition
Biological protection of forest
Natural and regardful forest management
Hunters challet called "Swiss House"