The pilgrimage place Dobrá Voda ("Good Water") lies on the northern slopes of the Novohradské Hory (Nové Hrady Mountains) about 7 km south-west of the town Nové Hrady, 695 m a.s.l.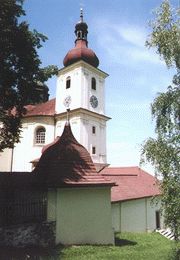 The dominant feature of the village is the pilgrimage Church of the Assumption of Virgin Mary. The valuable and magnificent Baroque building stands on the radioactive spring in the imposing position with a nice view of the country. It was built between 1708 - 1715 under the design of an unknown architect, but it is attributed to K. I. Dienzenhofer.
The church was founded on the rectangular layout extended with two apses on both sides, three towers with domes and with the three-winged cloister.
The treasurable paintings from 1729 can be seen on the ceiling. They were partially repainted in 1888. The Baroque furnishings originate from the 18th century.
The healing water from the radioactive spring was found here in the 16th century and the village was a sought-after spa.
The terrace in front of the church offers nice views of the region.
By the church there is stop with informative board of the instructional trail Paměti Novohradska ("Memory of the Nové Hrady region").