The town Mladá Vožice lies about 18 km north-east of the town Tábor on the left bank of the Blanice river below the ruins of the Šelmberk castle, 505 m a.s.l.
The town is sometimes called "Czech Salzburg" due to the face of this countryside, which resembles to the area around the town Salzburg (Austria).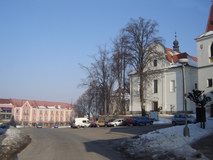 The history of the town dates back to the 13th century. In 1420 the Hussites won in one of the first battles. After the Thirty Years' War the town and its surroundings declined. The development started after the foundation of the Czechoslovak Republic (1918).
The originally Renaissance chateau stands in the town. It was rebuilt into the Baroque style in 1735 and then it was reconstructed in the Classicism style (1764 - 1797).
The Baroque St. Martin's Church was founded between 1764 - 1797. The single-aisled church, which has a semi-circular presbytery, was built on the foundations of the older sacral building. The neighbouring originally Late-Gothic bell tower was reconstructed into the present appearance at the beginning of the 20th century.
The regional museum is located in the house of birth of the historian and chronicler August Sedláček. The memorial hall of the painter and puppeteer Ota Bubeníček, who is buried in Mladá Vožice, is located in the town hall.
The Baroque Chapel of the Blessed Virgin Mary, which stands on the knoll on the outskirts of Mladá Vožice, dominates the town.
The Jewish cemetery, where Jews from the town were buried, can be found about 3 km north-west of the town near the small village Elbančice.
ruins of the Šelmberk castle
small village Ratibořské Hory
town Pacov
small town Chýnov