The ruins of the Gothic-Renaissance Šelmberk castle can be found on the rock above the valley of the Blanice river about 2 km north-east of the town Mladá Vožice and about 20 km north of the town Tábor, 460 m a.s.l.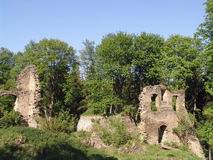 The castle was probably founded in the 14th century. It was rebuilt and enlarged in the Renaissance style in the 16th century. In the second half of the 16th century the castle became property of Mladá Vožice. Then it was abandoned and it became ruins during the 17th century.
The 26 metres high round tower has been preserved up till now. It stands on the western edge of the rock ridge. It protected roads below and since 1783 it has been used as a observation tower.
The remains of the castle can be found on the field path connecting the roads Mladá Vožice - Votice and Mladá Vožice - Načeradec (both about 3 km behind Mladá Vožice) and on the red marked tourist path leading from Mladá Vožice (about 3 km).