The town Nepomuk lies about 24 km north-west of the town Blatná, 450 m a.s.l.
It used to be a market village called Pomuk, which was founded around 1250. It was connected with the neighbouring village Přesanice in the first half of the 14th century and was named Nepomuk. Silver and gold mining, which began in the 14th century too, started economical development and Nepomuk obtained series of rights and privileges in 1465 and 1512. It was promoted to the town in 1730.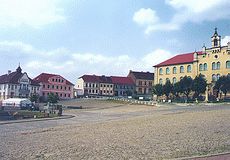 The Romanesque St. James' Church stands on the western outskirts of the town in the former village Přesanice. It originates from the second half of the 12th century. The Baroque building of the archdiocese with the mansarded roof looms in the surroundings. It is from 1678 and it has been used as a museum.
The dominant feature of the centre is the Church of St. John Nepomucene, which was built on a layout in the shape of the Latin cross. An interesting sight in the square is the building of the savings bank in the Art Nouveau style from 1908.
The Baroque octagonal public fountain with the sculpture of Virgin Mary from 1867 is in middle of the square.
St. John Nepomucene, the vicar of the Prague archbishopric, was born in Nepomuk. He was canonized in 1729.
The chateau Zelená Hora (Green Mount) stands on the top of the hill of the same name on the northern outskirts of the town.
town and chateu Lnáře
village Kasejovice
small town Plánice
town Horažďovice