Kraví Hora (Cow Mount - 953 m) lies in the Novohradské Hory (Nové Hrady Mountains) about 1 km west of the small village Hojná Voda and about 10 km south-west of the town Nové Hrady.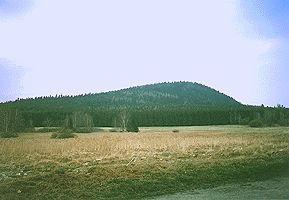 There is a place with nice views on the peak. A large field of stones, which is partially overgrown, and interesting rock formations (one of them is the stone called Napoleon) can be seen on the hillside.
The top of the mountain can be found on the red marked path, which leads from Hojná Voda (about 1.5 km) or on the green marked trail, which runs from the village Dobrá Voda. Access is also possible along the blue marked path from the small town Trhové Sviny (about 20 km).