The small town Vyšší Brod ("Upper Ford") lies about 25km south of the town Český Krumlov on the right bank of the Vltava river near the Czech-Austrian border, 571 m a.s.l.
It is a favourite summer holiday centre and starting point of canoeing on the Vltava river.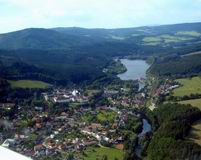 The original village arose here near the so-called Upper Ford across the Vltava river on the trade route to Austria. It was at the beginning of the 13th century, right before the foundation of the monastery here.
The most important sight is the Gothic monastery, which stands on the western outskirts of the town.
The parochial St. Bartholomew's Church is situated on the upper side of the long square. It was built together with the monastery in 1259. During the Hussite Wars the church was destroyed and it was restored in the 16th century.
The former town hall, which stands in the park in the square, originates from 1525 and it was reconstructed in the Neo-Gothic style in 1883.
The pillory from the second half of the 16th century and the public fountain with the statue of St. Florian from 1737 can be seen in the park in the square as well.
The Pseudo-Gothic Chapel of Our Lady Relaxing on the Stone stands in the wood on Martínkovský Vrch hill above Vyšší Brod.
reserve Čertova Stěna
ruins of the Vítkův Kámen castle
village Loučovice
castle town Rožmberk