The small town is well known due to the castle of the same name, one of the oldest castles in South Bohemia, and due to a favourite camping place of canoeist on the Vltava river.
Rožmberk nad Vltavou lies 24 km south of the town Český Krumlov, 528 m a.s.l.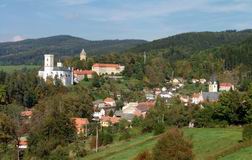 The town was founded in 1262 by Vok from Rožmberk as a settlement on the Vltava river below the new castle, which was built here on the rocky spit above the river. The Rožmberks owned the town till 1611. The other owners were the Švamberks (till 1620) and then the family of Buquoy.
The town walls, which were built beside the castle in the 14th century, have been preserved up till present.
An important sight is the Church of the Blessed Virgin Mary, the significant example of the South Bohemian Gothic architecture. The three-aisled church with the huge tower originates from the second half of the 15th century and it is arched with the tracery vault. There is a Baroque altar from the second half of the 17th century in the church.