One of the oldest Bohemian castles can be found on the rock above the small town Rožmberk nad Vltavou on the Vltava river about 18 km south of the town Český Krumlov, 540 m a.s.l.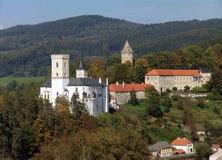 The castle was built by the Vítkovec family right before 1250 near the so-called Lower Ford across the Vltava river on the trade route Netolice - Linz (Austria). The original castle, called "Upper", burnt down in 1522 and it has never been rebuilt. Already before that time, in the first half of the 14th century, a new castle called "Lower" was founded near the old one - it was intended to be a smaller copy of the Český Krumlov castle. In the 16th century the Lower Castle was rebuilt into the Renaissance style and a small chateau with an English park was built near the Upper Castle. In the 19th century the Lower Castle was rebuilt for the last time.
The Buquoys, other important south Bohemian family, owned the castle after the Rožmberks too.
The Rožmberk castle was restored in the 20th century. Only the Gothic tower Jakobínka from the Upper Castle is preserved on the highest part of the rock. The Lower Castle with its interiors is in good condition as well.
The remains of the fortification are preserved in the village below the castle.