The Český Krumlov chateau towers in a dominant position on the rock above the meander of the Vltava river and above the town of the same name.
It is the second largest castle precinct in Bohemia with its 300 rooms and 5 courtyards (after the Prague Castle).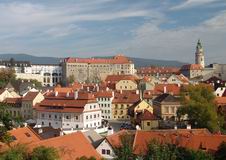 Originally it was a Gothic castle built by the family of Vítkovec in the 13th century (first mentioned in 1253). The construction of the town started at the same time with the castle.
The oldest part is the Lower Castle with a huge round tower from the middle of the 13th century with a gallery and a high Renaissance dome from 1580.
The Upper Castle with the new palace, St. George's Chapel and two towers were founded in the first third of the 14th century by Petr of Rožmberk west of the Lower Castle. It was enlarged in the middle of the 15th century - the new three-winged palace was added and it closed the second courtyard.

In the middle of the 16th century the total Renaissance reconstruction started. It continued till the 1580's when it was finished under the design of Baltazar Maggi. A hundred years later the castle was rebuilt again, this time into the Baroque style. The last reconstruction was between 1744 - 1767 and it was in the Baroque and Rococo styles.
The Vítkovec and the Rožmberk families owned the chateau for three hundred years. Between 1602 - 1622 the chateau was under the ownership of the Habsburgs and then it was a property of the Eggenbergs and the Schwarzenbergs.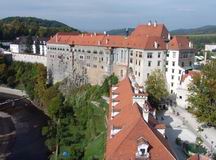 The central gate is the so-called Červená Brána (Red Gate) leading to the first courtyard (called also "Romp Ground") ahead of the castle. The first courtyard was used for tournaments and games. The entrance to the Lower Courtyard is across a stone bridge over a deep moat with bears (the so-called Bear Moat - bred here since 1558). The huge round tower stands in the south-western corner of the Lower Courtyard.
The Upper Castle is accessible over the second castle moat. Its two courtyards are surrounded with ornamented two- and three-storeyed buildings. A chateau chapel, a picture gallery, Eggenbergs' hall and a noteworthy mask hall etc. can be found in this part.
The fifth courtyard is accessible over the grand Mantle Bridge, which offers nice views of the town. The unique Rococo theatre from the 1770's, one of the oldest in Europe, can be seen in the courtyard.
| | |
| --- | --- |
| | |
A large park founded at the end of the 16th century is situated behind the castle. It is accessible along the so-called connecting corridor from the castle. An interesting cascade fountain, a Baroque summerhouse and the revolving auditorium of an open air theatre can be seen there.