The border town České Velenice lies on the Czech-Austrian border about 15 km east of the castle town Nové Hrady, 498 m a.s.l. There are both railway and road border crossings here.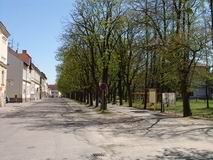 The present town comprises several villages, which were originally parts of the town Gmünd (Austria). In 1920 the area around the present borderline fell upon the former Czechoslovak Republic and the villages were united to the town, which was named České Velenice ("Czech" Velenice).
In 1938 the area around České Velenice became a part of Germany. On 23rd March 1945 the town was bombed and destroyed. It was completely renewed after 1945 and there are no older sights in the town. The memorial to victims of the Nazism - the mass grave of 512 Jews with the Hungarian nationality, who were killed in the camp in the neighbouring Gmünd.
The instructional cyclotrail Paměti Vitorazska ("Memory of the Vitoraz region") passes through the town.
reserve Žofínka
reserve Červené blato
small river Dračice
nature park Terčino Údolí
small town Suchdol nad Lužnicí
town Nové Hrady