The town Nýrsko lies 18 km south-west of the town Klatovy on the Úhlava river in the north-western part of the Šumava mountains (Bohemian Forest), 452 m a.s.l.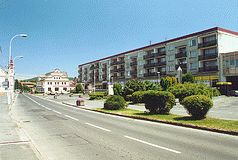 It probably used to be a settlement in the 12th century. It was situated on the trade route to Bavaria (Germany) near the ford across the Úhlava river. A customs office was located here. The first mention dates back to 1327. The lower part of the town, called Dolní Nýrsko (Lower Nýrsko), was a member of the Royal Chamber, and the upper part, Horní Nýrsko (Upper Nýrsko), was a market village under the ownership of the Pajrek castle. In 1558 Horní Nýrsko joined Dolní Nýrsko and both became property of the municipality of Bystřice. The town developed and grew quickly at that time and it obtained a lot of rights and privileges from Emperor Rudolph II in 1539.
The development continued in the 19th century too, when the railroad, a factory for the production of optical instruments, and a shop of cut-glass were founded here.
The single-aisled St. Thomas' Church was founded in the upper part of the town before 1352. It was reconstructed in the Baroque style in the 18th century. The tower is situated on the northern side. The presbytery is arched with the cross vault, the nave and the Baroque Chapel of the Blessed Virgin Mary are enclosed within the dome. A statue of St. John Nepomucene in front of the church originates from 1735.
The town square and the new parts of the town are in the lower part. There are the Baroque town hall from 1684 on the northern side of the square and the Early-Baroque rectory.
A Jewish cemetery is located near the road to the small town Železná Ruda, about 0.5 km behind Nýrsko. It was founded around 1430 and the oldest preserved gravestones are from the 18th century.
Prenet mountain
Můstek mountain
town Železná Ruda
Nýrsko Dam