Můstek mountain (1,234 m) is one of three peaks of the favourite sierra trail in the Šumava mountains (Bohemian Forest) - Prenet, Můstek and Pancíř mountains. It lies 7 km north of the town Železná Ruda.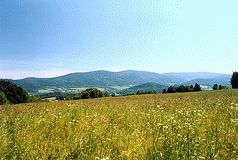 The sierra trail leads over the peak and it offers nice views of the Šumava mountains and of the inland.
The ski-slope with a lift was built on the north-western hillside above the small village Hojsova Stráž.
The red marked path from the peak of Pancíř mountain, which is accessible also by the chair-lift), leads to the top of Můstek mountain. The other way is possible along the blue sign from Hojsova Stráž (about 4 km).