The town Dačice lies on the Czech-Moravian border on the upper reaches of the Moravská Dyje river (Moravian Dyje) about 10 km south of the town Telč, 577 m a.s.l. It is very well-known for its sugar industry, because of lump sugar was made and then produced here first all over the world in 1841 (more history).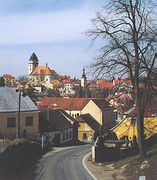 The town with a church are first mentioned in the first half of the 12th century. It was an important centre of the colonizers of the region. In the second half of the 14th century the village became property of Lords of Hradec. They founded there the new town with the large three-cornered square on the crossway of two important trade routes. The highest importance of the town came under the ownership of the family of Krajíř of Krajek in the 16th and at the beginning of the 17th centuries, when the town was a centre of the large region in the south-western Moravia.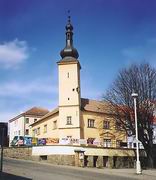 The dominant building of the town is the huge Renaissance tower built between 1586 - 1592. It adjoins with the St. Lawrence's Church, which is placed on the foundation of the original Romanesque sacral building.
The former Renaissance town hall (1559) with the Baroque dome stands in the square below the church. The current town hall is situated in the so-called Old Chateau. It was built under the design of Italian Renaissance villas between 1572 - 1579 in the northern edge of the square. The chateau called New Chateau was founded short time after the finishing of the Old Chateau and it is situated above the square near the St. Lawrence's Church.
The former Baroque Franciscans monastery with the Church of St. Anthony of Padua on the left bank of the Moravská Dyje (Moravian Dyje) river originates from the 1660's. The town museum and the gallery are located there in present.
The Baroque Marian column from the first half of the 18th century and the Napoleonic fountain from the beginning of the 19th century can be seen in the square.
The St. Roch's Chapel was founded after the plague epidemic at the end of the 17th century near the road in direction of the town Telč.
The monument in the shape of a lump of sugar in front of the St. Lawrence's Church commemorates the first production of lump sugar in the world.
village Český Rudolec
town Slavonice
town Telč
small village Kostelní Vydří
ruins of the Landštejn castle
Vysoký kámen hill