The large ruins of the Landštejn castle are one of the best preserved Romanesque castles in Bohemia. The castle was built on a granitic hill (665 m a.s.l.) about 10 km east of the small town Nová Bystřice near the point of the convergence of the borders of Bohemia, Moravia and Austria.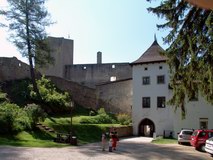 The foundation of the castle dates back to the 13th century. It was built in order to protect the border and the trade route to Austria. Ownership of the castle changed hands several times throughout its history. The first large reconstruction was in the 16th century - it was enlarged and refortified. Thanks to its double enclosure walls it became one of the biggest castles in Bohemia. It was inhabited till the 18th century. In 1771 it completely burnt down. Then it was in ruins till the 1970's, when it was reconstructed and opened to the public.
The castle core is the original Romanesque palace enclosed by two towers dating from the beginning of the 13th century. The higher tower, with small windows and with the entryway high above the terrain, was used for defense. In the smaller one the Romanesque chapel has been preserved.
The Landštejn castle is probably the setting for the drama "Die Räuber" by Friedrich Schiller.
The road and the red marked path (about 4 km) from the small town Staré Město pod Landštejnem (on the road Nová Bystřice - Slavonice) lead to the castle village Landštejn. The blue marked trail from Nová Bystřice (about 4 km) or from the small village Český Rudolec (13 km) runs around the castle as well.
Not far from the castle the Landštejn Dam was built on the stream called Pstruhovec. The dam can be seen from the castle observation tower.