The small town Nová Bystřice is situated about 15 km south-west of the town Jindřichův Hradec near the Czech-Austrian border, 588 m a.s.l.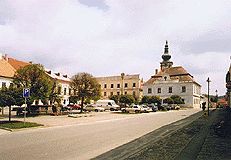 It was originally a small village situated about 1 km far from the present town, near the trade route. The village is first mentioned in 1188 - it was under the ownership of Lords of Landštejn, who founded a castle here. It became a town in 1341. In 1420 the town burnt down and was destroyed by the Hussites and it had to be built again.
The centre of the town comprises the square with the Baroque fountain and the Marian pillar.
The Renaissance chateau stands not far from the square. Originally it was the Gothic castle, which was rebuilt into a chateau at the beginning of the 17th century. It was enlarged in the Baroque period. The Gothic Church of Sts. Peter and Paul burnt down in the 17th century and it was rebuilt into the present Baroque appearance. The wall paintings inside the church originate from the first half of the 14th century.
The town walls can be found on the southern outskirts of the town.
The narrow-gauge railway, constructed at the end of the 19th century, begins in Nová Bystřice. It leads through Jindřichův Hradec to the village Obrataň.