The village Český Rudolec is sometimes called "the Moravian Hluboká" for its mansion. It lies about 8 km south-west of the town Dačice on Bolíkovský Potok (Bolíkov Stream), 505 m a.s.l.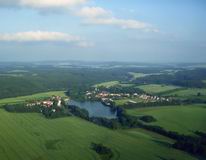 There was originally a Gothic water fortress under the ownership of Lords of Rudolec. The village with the fortress became the centre of the region. In 1860's the fortress burnt down and a two-storeyed mansion in the Neo-Gothic English style similar to the Hluboká nad Vltavou chateau was built in its place. In past the chateau was surrounded by the English park, but in present it is in ruins.
Another sight of the village is the Church of St. John the Baptist. The originally Gothic church comes from the second half of the 15th century and it is a small copy of the St. James' Church in the town Telč.
The Chapel of St. Cross can be found on the southern outskirts of the village on the knoll. The Baroque building dates from 1761. It was built on one side of the Stations of the Cross, later it became a part of the cemetery.
The path of the instructional trail Graselova Stezky (Grasel's Trail) leads from Slavonice to Český Rudolec.