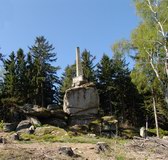 Vysoký Kámen hill (High Stone - 738 m) lies about 5 km south of the small town Kunžak and about 25 km south-east of the town Jindřichův Hradec.
Vysoký Kámen hill was the place of the convergence of borders of Bohemia, Moravia and Austria and the landmark was on the top. Its German name is "Markstein" and it means "Landmark".
The interesting huge bizarre rock formations can be seen on the peak.
The red marked tourist trail from Kunžak runs to the top (about 6 km).