The small town Kunžak is situated 14 km east of the town Jindřichův Hradec, 575 m a.s.l.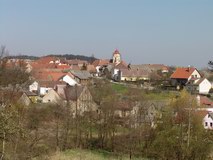 The first mention of Kunžak dates back to 1288. It was probably founded by King Premysl Ottakar II and it was under the ownership of the bishopric in the town Olomouc. Before 1385 Kunžak became a small town. The town was a famous cattle and horse market place from the 15th century. In 1808 it burnt down and it was practically destroyed. Town renewal started with the development of weaving in the 19th century.
The originally Gothic St. Bartholomew's Church originates from about 1370. It was reconstructed in the Baroque and Napoleonic styles. The tower comes from 1556.
Interesting sights of Kunžak are public fountains. The biggest one is in the middle of the square. The technical sight is the fountain behind the school near the square. It originates from 1665 and it is chiseled from one block of granite.
The bridge over the Lánský Potok stream with the Baroque statue of St. John Nepomucene is a protected technical site.
The surroundings of the town with a lot of ponds (Komorník, Zvůle, etc.) and forests is a famous recreation area with a lot of camp sites.
Vysoký Kámen hill
village Český Rudolec
village Strmilov
town and chateau Jindřichův Hradec