The village Strmilov is situated 15 km east of the town Jindřichův Hradec above the valley of the Hamerský Potok (Hamry Brook), 545 m a.s.l.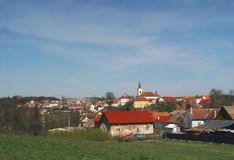 The history of Strmilov dates back to the 13th century. In 1294 it was a small town under the ownership of Oldřich of Hradec. It burnt down many times. The new St. Gilles' Church was founded right after the biggest fire in 1835.
The cemetery of Late-Romanesque St. Andrew's Church is probably the oldest structure in the neighbourhood. It was reconstructed in 1604 in the Gothic and Renaissance styles and again in 1711.
The small museum of weaving in Strmilov acquaints with the history of this branch, typical in this region. There also is a small museum is in the Švehla's mill. In this museum the visitors can see the original equipment of the water-mill.
The surroundings of the village are well-known recreational area. It is located around Komorník pond.
Not far from Strmilov there are small ruins of the castle Tůmův Vrch in the neighbourhood of the small village Česká Olešná.