The five high Gothic windows of the former St. Andrew's Church loom over the small village Kuklov above the valley of the Brložský Potok (Brloh Stream) about 3 km west of the village Brloh (15 km south-west of the town České Budějovice) in the Protected Landscape Area Blanský Les (Blansko Forest).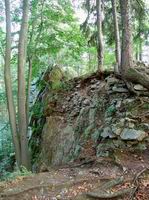 The Kuglvaid castle stood on the rock not far from the village in the past. It probably was established by the bishop of Vyšecastle monastery (Prague) around 1360 in the region inhabited by Germans. The name of the castle and the village perhaps comes from the German "gugl-waid" ("woody hummock"). The small village arose around the castle. In the second half of the 14th century the castle became property of the King, but all holdings around it were under the ownership of the Rožmberks.
In 1395 the castle was captured and destroyed by the Rožmberks. It has remained in ruins since. Only slight remains of the walls have been preserved up till present.
The St. Andrew's Church was founded together with the castle. It became dilapidated during the 15th and 16th centuries and the new one with the monastery were built here. During the Thirty Years' War they were damaged and they became a source of material for building the village. Only the remains of the church with five Gothic windows have been preserved up till the present day here.
The village Kuklov lies on the road from the town Prachatice to the village Křemže. The remains of the church can be found in the wood about 300 m far from the church (in the direction of the signpost).
The instructional trail Brložsko (Brloh Region) leads through Kuklov and its surroundings.