The small village lies about 4 km south-west of the town Kaplice on the south-east slope of Poluška hill (919 m), 675 m a.s.l.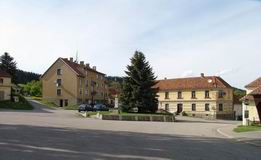 The first mention of the village originates in the middle of the 14th century. The original settlement belonged to the Pořešín castle. Then Omlenice often changed a lot of not much important owners from the 15th century. In the second half of the 18th century it was under the ownership of the monastery in Český Krumlov, later it became a property of the monastery in Vyšší Brod, together with the neighbouring village Omlenička.
The most important sight of both the villages Omlenice and Omlenička is the Baroque Church of St. John Nepomucene in Omlenička. In Omlenička there was also a fortress, which was later rebuilt into the Renaissance mansion.
In Omlenice there is the memorial to the Transport of Death.
A spa with the spring of good water was in Omlenička in past.