Katovice lies on the left bank of the Otava river about 7 km west of the town Strakonice, 412 m a.s.l.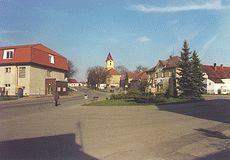 The history of the village dates back to the 11th century. It used to be a settlement founded near the ford across the river. The first mention originates from 1318. In 1505 it became a small town, which became property of the Jesuits from Klatovy in the 17th century.
The Early-Gothic Church of Sts. James and Philip from the beginning of the 13th century stands in Katovice. It was reconstructed in the Renaissance style between 1580 - 1582 and then in the Baroque style in 1761. The Gothic portal and Renaissance font from 1599 have been preserved to the present day in very good condition. The tower, which was built in the style of Romanesque-Renaissance, was aggrandized in the 19th century.
Kněží Hora hill ("Priest Mount" - 495 m) towers on the left bank above the Otava river. Traces of the prehistoric fort from the middle of the first millennium B.C. and of the Slavonic fort from the 9th century can be found there. The instructional trail leads from Katovice to the fort.
The ruins of the former castle and the Baroque mansion Střela can be found on the small hill about 2 km east of the village above the road to Strakonice.
About 5 km west of Katovice are the ruins of the small Kladruby castle.