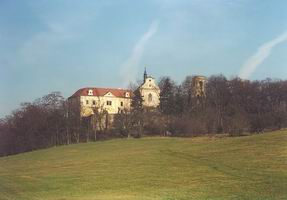 The Renaissance chateau and the remains of the Gothic castle stand on the lone hill above the village of the same name about 4 km west of the town Strakonice.
Only remains of walls have been preserved from the original guardian castle.
The chateau with the layout in the shape of the "D" letter was built in 1514 next to the castle. It stood till 1619, when it was burnt down. It was restored in the Baroque style in the 18th century by Jesuits from the town Klatovy. The chateau was used as a summer residence. All its rooms are accessible from the outside or from the terrace - they are not joined.