The village Chřešťovice lies 9 km east of the town Písek, 398 m a.s.l.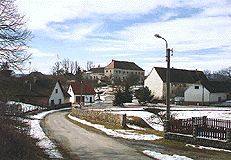 Originally the village was separated into two parts. One of them was under the ownership of the Prague bishopric and the other one was property of South Bohemian vassals. Both parts were connected by Oldřich Radkovec of Mirovice in 1529. From 1711 the village was property of the Schwarzenbergs, who connected it to the domain of the town Protivín.
The Baroque mansion in the village has partially preserved arcades.
The Early-Gothic Church of St. John the Baptist from the 13th century stands in the cemetery. Traces of the old-time fort can be found in the surroundings of the church.
Some remains of a potash manufacture can be seen in the village as well.