The village Kájov is one of the oldest Marian pilgrimage places in Bohemia. It lies in the beautiful scenery above the valley of the Polečnice brook about 4 km west of the town Český Krumlov, 540 m a.s.l. The hill above the church offers nice views of the country - Protected Landscape Area Blanský Les (Blansko Forest) and Kleť mountain.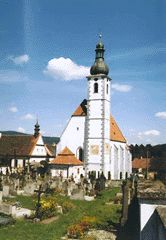 The unique precinct of the pilgrimage Church of the Assumption of Virgin Mary with the small Church of Death of Blessed Virgin and a noted rectory connected with a hospital have been preserved since 1995.
The oldest part is the small Church of Death of Blessed Virgin from the second half of the 13th century. The main building is the Church of the Assumption of Virgin Mary, which represents the zenith of the South Bohemian Late-Gothic style. It was founded in the 14th century and its present face comes from the Late-Gothic recontruction between 1471 - 1483; the church was enlarged in that time into two-aisled with the tracery vault. Not many important changes took place in the Baroque style during the 18th century. The furnishings of the church are mostly from the Baroque period, partially from the Gothic period. The Late-Gothic sculpture of Madonna of Kájov from the 15th century can be seen on the main altar.
The church's tower with the cupola stands in the south-western corner. The Chapel of Death of Blessed Virgin adjoins with the church's sacristy. The chapel (with the valuable Late-Gothic furnishing) was rebuilt in 1488 and in the 18th century it was reconstructed in the Baroque style.
The Early-Baroque Chapel of St. John Nepomucene in the precinct dates from 1699.