The castle Strakonice is one of the oldest stone castles in Bohemia. It is situated in the town Strakonice above the confluence of the Otava and Volyňka rivers.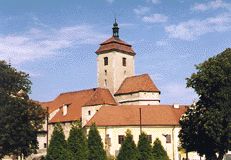 The castle was established in the 13th century and it became a possession of the family of Bavor of Strakonice. They gave a part of the castle to the Hospitallers of St. John of Jerusalem in the middle of the 13th century. Strakonice was a seat of priors of the Hospitallers of St. John of Jerusalem and since 1402 all the castle and all the region were their property. They owned it till the 20th century.
During the construction of the castle between 1220 - 1235 the conjunction of the lords palace with the monastery began. The Romanesque-Gothic St. Procopius' Church (built together with the castle) and the Capitular Hall with frescos from the 14th century belong to the oldest part of the castle.
The so-called Panský Dům house (House of Lords) was originally a Gothic castle palace rebuilt into the Renaissance style. The tower called Rumpál originated from the 13th century and it defended the palace from the west.