The large ruins of the Gothic castle Dívčí Kámen (Girls' Stone), lie on the rock spit of the same name above the confluence of the Křemežský Potok (Křemže Stream) and the Vltava river about 10 km north of the town Český Krumlov, 585 m a.s.l.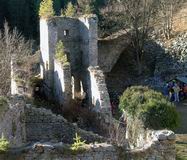 A prehistoric hillfort was probably here about 1500 B.C.
The Rožmberk family founded the castle in 1349 and the construction took 40 years. The castle was not occupied for long - in the first half of the 15th century it was fortified, but in the 16th century its owner Petr Vok of Rožmberk decided not to maintain it anymore and it gradually dilapidated.
The ruins are in good condition, but only the remains of the high walls can be seen here nowadays. There are very nice views of the Vltava valley here.
The castle lies in the reserve of the same name. The reserve is a part of the Protected Landscape Area Blanský Les (Blansko Forest). The 70 m high granulite spit and the mountain-wall opposite the castle are protected here.
The castle can be found on the yellow marked path from the village Holubov (3 km) or on the red marked path - from the small village Zlatá Koruna (about 5 km), from the small village Boršov nad Vltavou (about 14 km) or from the railway station Třísov (1.5 km). The way from Třísov offers nice views of the ruins in all its dignity.
The instructional trail Třísov - Dívčí kámen - Holubov leads alogn the castle.
The remains of the Celtic oppidum can be seen about 400 m far from Třísov in the direction of the Dívčí Kámen.