The small village Radenín lies about 14 km east of the town Tábor below the Choustník castle, 503 m a.s.l.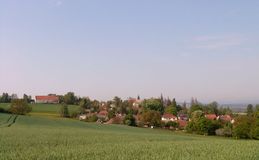 The original fortress, which was a seat of the Czech chronicler Přibík Pulkava, was rebuilt into the Renaissance chateau around 1600. It was reconstructed many times under the influence of various trends. The present appearance originates from the Pseudo-Renaissance reconstruction in 1845.
The originally Gothic St. Margaret's Church was built in the 14th century. This single-aisled church was reconstructed in the second half of the 16th century. It has the polygonal presbytery, the tower and the Baroque St. Barbara's Chapel from 1732.
The Jewish minority lived in Radenín too - the synagogue, which was completely rebuilt for residential use, and the Jewish cemetery from the 18th century can be found in the village.