The village Frymburk lies in the holiday centre on the left bank of the Lipno Dam. It is situated about 15 km north-west of the small town Vyšší Brod, 730 m a.s.l.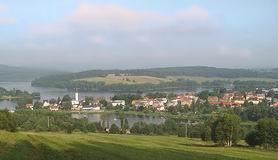 The first mention of Frymburk comes from the 13th century. The village, property of the Rožmberk family, became a town in the 15th century.
Most parts of this village were flooded when the Lipno Dam was completed. The square with the park and with the Baroque fountain have been preserved up from the original village.
The St. Bartholomew's Church was founded in 1277 and in 1530 it was reconstructed in the Late-Gothic style and the presbytery was arched with the tracery vault. The nave is arched with the barrel vault from the middle of the 17th century. The Neo-Gothic tower has a pyramidal roof. The valuable Baroque furnishings come from the 17th century.
The harbour of a ferry is in the village. The ferry links Frymburk with the small village Přední Výtoň on the opposite bank of the Lipno Dam.
The instructional trail Lipno ends on the hillock "Na Martě" above Frymburk.