The small town Borovany lies about 15 km south-east of the town České Budějovice near the Stropnice river, 522 m a.s.l.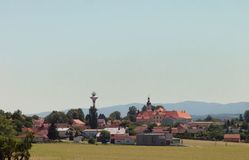 The first mention of the town already dates back to 1186. The monastery of the Austin Friars with the Church of the Visitation of the Virgin Mary were founded here in 1455. The church was built in the place of the original sacral building from the first half of the 14th century. It has valuable furnishings and the Gothic statue of Piety dates back to the second half of the 15th century. The Gothic cloister originates from the third quarter of the 15th century. The chapel was added during the Baroque reconstruction of the church in the first half of the 18th century.
The monastery was closed in 1631 and its prelature was rebuilt into a chateau in the second half of the 18th century. The three-winged building with the fountain in the courtyard was used as a school till the end of the 20th century.
The Baroque town hall, which was built in the last quarter of the 17th century, and a pillory (1656) can be seen in the square.
| | |
| --- | --- |
| | |
| | |
| --- | --- |
| | |
There are finding places of the infusorial earth in the surroundings of the town.
The instructional trail Totalita Rozděluje (Totalitarianism Divides) starts and ends in Borovany.
A small ZOO with exotic animals lies about 2.5 km south-east of Borovany near the small village Dvorec (about 1 km east).