Klokoty is a part of the town Tábor nowadays. It is situated on the western outskirts of the town about 2 km far from the centre high above the Lužnice river.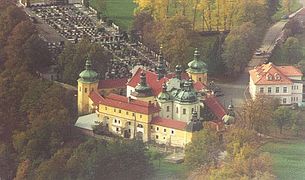 The pilgrimage Church of the Blessed Virgin Mary with the monastery were founded in the place of the former Gothic parish church (first mentioned in the 13th century). The unique Baroque complex dates from 1701 - 1730. The church stands among cloisters with four polygonal chapels and a residence.
There are a presbytery and two chapels arched by domes inside, only the nave has a straight arch.
The furnishings of the church are mostly in the Baroque style from the 18th century. The main altar comes from 1743 and it is made from gilt silver.
The Stations of the Cross with small chapels lead from the church to the Baroque chapel built in 1730 on the spring of the so-called Good Water.